How To Choose The Best Freestanding Soaking Tub
What Is A Freestanding Soaking Tub?
As its name describes, a freestanding tub is finished on all sides and doesn't attach to a wall. It's accessible from all sides and is often the focal point of the bathroom compared to a traditional bathtub. Because freestanding soaking tubs make a strong design statement, they're often viewed as furniture instead of a fixture.
TYPES AND STYLES SOAKING TUBS
Soaking tubs are as versatile as they are beautiful. They come in different shapes and sizes such as clawfoot, single and double slipper, single or double-ended, and pedestal.
Clawfoot Tubs
This style has been around since the 19th century and still remains a popular choice for people looking to upgrade their bathrooms while maintaining a more traditional aesthetic. The tub sits on four "feet" at the corners of the tub raising it off the ground. In fact, during the 19th century, the clawfoot bathtub was considered a piece of furniture. At that time it was on-trend to treat the legs on furniture as actual legs, which is why traditional clawfoot tubs have animal feet on them.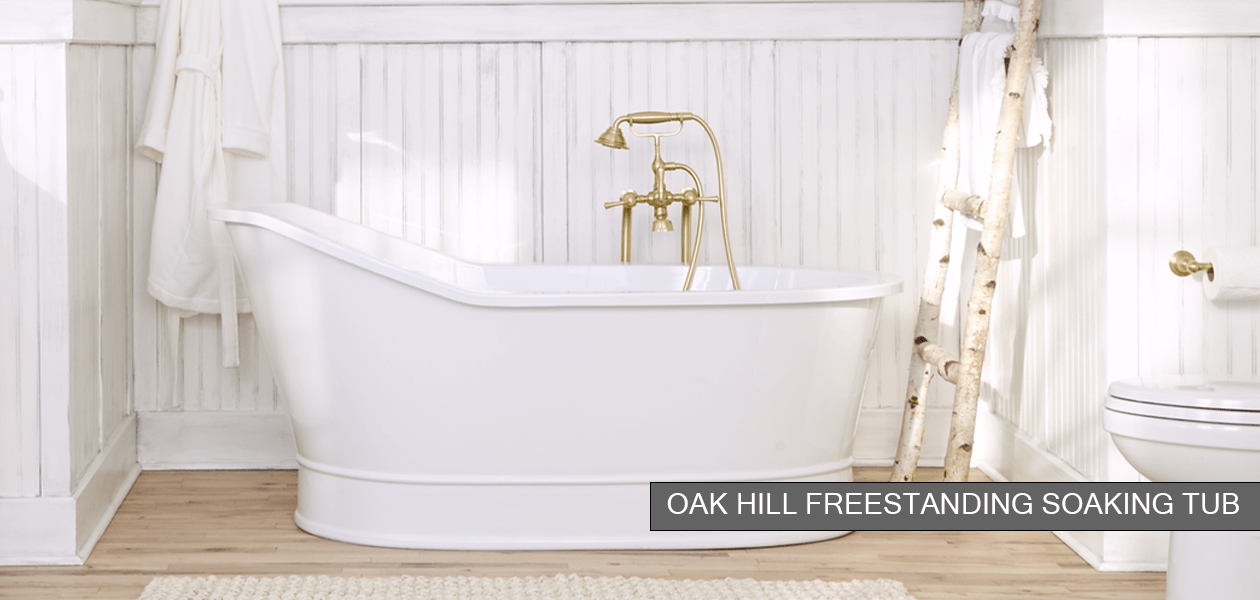 Single And Double Slipper Tubs
Single and Double slippers are raised on either one or both ends, making them resemble a slipper. Single slipper soaking tubs will have a raised back on the side opposite the drain which lets the soaker lean back and relax without having the drain in the way. Some tubs will have both ends raised, a double slipper, for relaxing on either side or for more than one bather to use.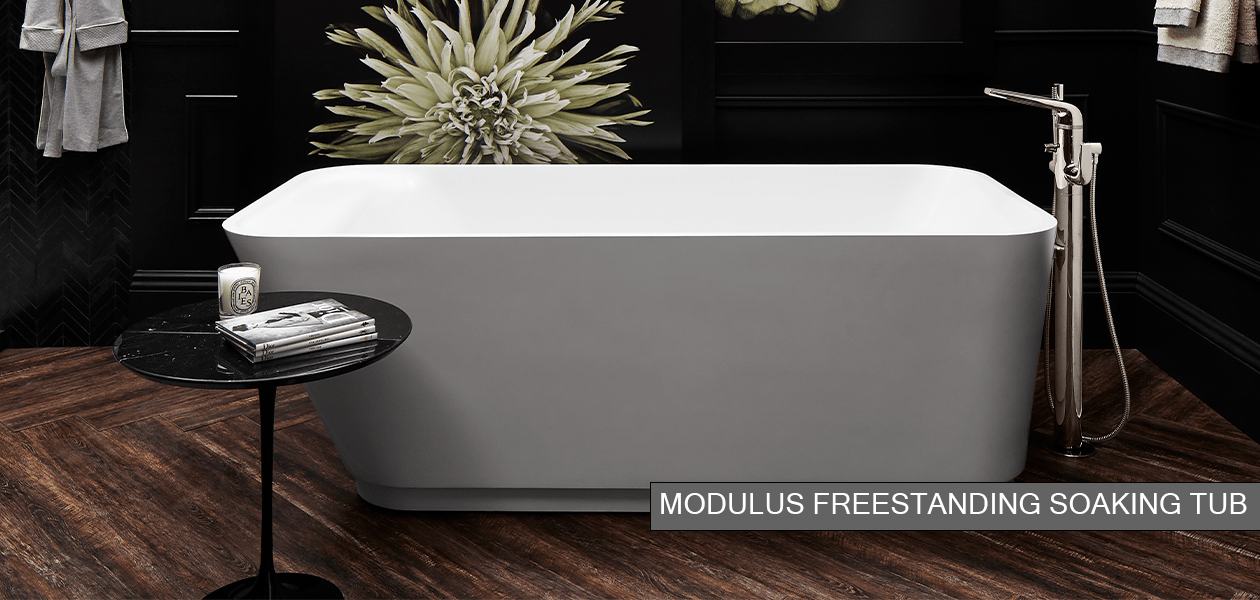 Single And Double-Ended Tubs
Similar to the slipper tubs, single and double-ended tubs will jut out on an angle to soak comfortably. Single-ended tubs will jut out on the side opposite the drain to sit back, while double-ended will jut out on both sides for flexible relaxing.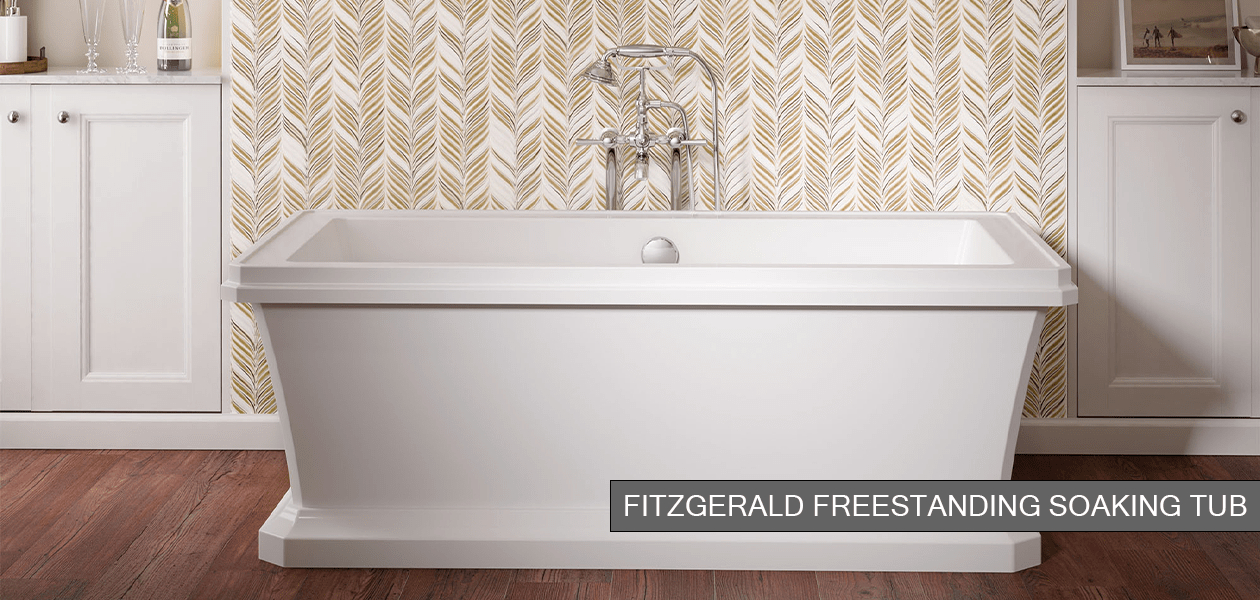 Pedestal Tubs
Pedestal tubs, like clawfoot tubs, will rest above the ground but on a pedestal instead of feet. This distributes the weight of the tub more evenly while giving the illusion of the soaking tub resting on the ground.
How Deep Is A Soaking Tub?
Soaking tubs are designed for long, luxurious soaks so they are deeper than a standard bathtub. While standard bathtubs typically hold 12 inches of water, a soaking tub will hold at least 14 inches– enough for the majority of the bather's body to be completely covered. We recommend seeing the tub in person so that you have the opportunity to get in and test out the depth and size needed for yourself.
How Big Is A Soaking Tub?
The best thing about soaking tubs is their versatility, the variety of sizes for soaking tubs allows you to fit one in nearly every type of bathroom. Soaking tubs can come as short as 54 inches long, or as long as 90 inches. Soaking tubs can also be as narrow as 19 inches or as wide as 76 inches to comfortably fit two bathers, leaving you with the flexibility to work within your space.
Soaking Tub Materials
The most common bathtub materials are:
1. Porcelain Enameled Steel
This is one of the most common materials because it's inexpensive, lightweight, durable, and easy to clean. However, there are a few drawbacks to consider. Porcelain enameled steel can chip easily allowing rust to form and it doesn't retain heat very well which can cut your soaking time short.

2. Acrylic
Acrylic is a popular material choice for its durability, versatility, affordability, and lighter weight. The main thing to keep in mind when purchasing an acrylic bath is the type of cleaner you use. Abrasive cleaners will scratch the surface of an acrylic bath.

3. Fiberglass (FRP)
Fiberglass is an inexpensive option that is great if you are looking to turn your freestanding soaking tub into a shower combo. It's lightweight, and easy to install, clean, repair and maintain. However, it isn't as durable as other materials so repairs may be more frequent.

4. Enameled Cast Iron
A classic bathtub material, enameled cast iron has excellent heat retention, is very durable, chip and scratch-resistant, and can be resurfaced. The only main consideration is the weight, cast iron tubs are very heavy which may make them difficult to install.

5. Cast Polymer (Cultured Marble, Granite, or Onyx)
Cast polymer, or engineered natural stone, can be pretty affordable. It's also easy to clean and buff out scratches. However, it can be brittle.
How To Install A Freestanding Soaking Tub

Given the versatility of a freestanding tub, you can place them anywhere in your bathroom. But if you are opting to install your soaking tub near a wall, a general rule of thumb is to keep at least 4 inches of space between the tub and wall on all sides.

Luckily, a freestanding soaking tub won't require additional plumbing work if it will sit where your standard tub was. Although, we always recommend consulting and contracting an expert's assistance. Installing the floor-mounted bathtub faucet will be the most intensive part of the project because it will require finishing the floors around the extending pipes.

Other considerations to think about before installing a freestanding tub is its weight, they hold a lot of water. A typical soaking tub between 60 to 72 inches holds up to 250 gallons! This may require your bathroom floor to be reinforced, and whether or not the tub requires leveling.
Soaking Tub Accessories
This is where you can bring your freestanding soaking tub to the next level with mood lights (chromotherapy) and massaging air jets for the ultimate spa experience. But for the minimalists out there, bathtub caddies and bath shelves have improved a lot. Most bath shelves now have bookstands for reading or watching on your tablet, wine glass holders, and even inlets for candles and tealights. All these elements allow you to personalize your soaking for the ultimate home spa experience.