Designing The Perfect Contemporary Farmhouse Kitchen
Jan 22, 2021
Designing The Perfect Contemporary Farmhouse Kitchen
The farmhouse kitchen trend continues to grow and evolve, proving just how versatile and appealing this design has become. In fact, the farmhouse aesthetic is so adaptable, its influence has given rise to the contemporary farmhouse kitchen, a modern merger of warmth and elegance that redefines the contemporary space.

While the term "farmhouse" often invokes images of country style with an emphasis on vintage and rustic touches, today's contemporary farmhouse style is more subtle. It is visually sophisticated with a warm, inviting ambiance that tempts all to linger a bit longer. When perfectly balanced, these distinct styles add up to a unique and welcoming space. The Contemporary Movement relies on evolving design influenced by individual tastes, functionality, and natural materials, which actually makes it easy to combine with the farmhouse aesthetic.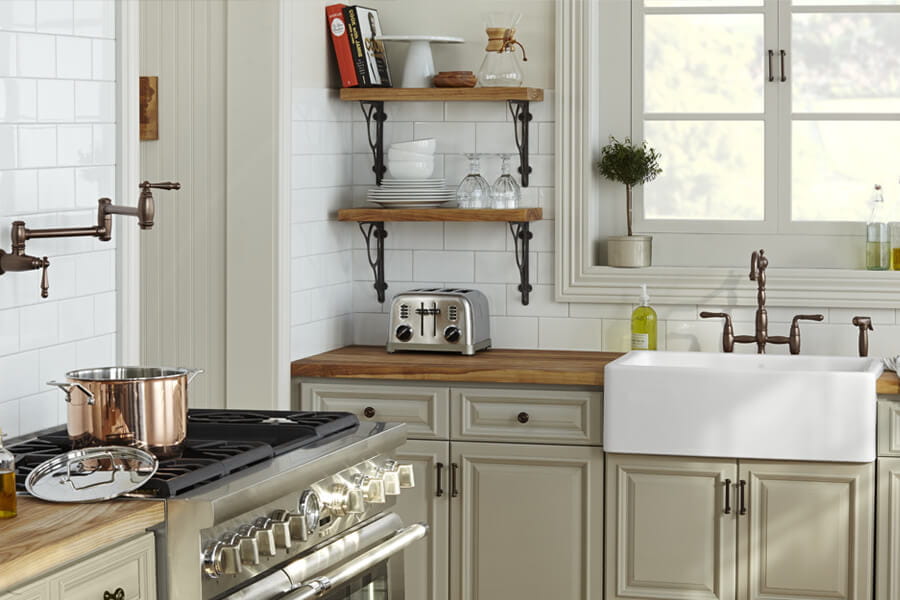 Choosing The Right Colors
The contemporary farmhouse kitchen has three main colors, white, black, and wood tones. At first, this may seem limiting. When put into practice, the combination acts as a unifying base for any additional colors. White is a wonderfully neutral canvas. Airy, bright and crisp in contrast to black and wood, it can be incorporated in multiple ways. For example, a white ceramic sink, especially with an apron front, becomes a functional focal point. Pops of black or navy add impact and carry those modern touches into the space. Including wood tones in your color scheme is essential to achieve the welcoming warmth of the farmhouse aesthetic. Thoughtful use of these colors creates an elevated sense of curation without a lot of effort.
Mixing and Matching Complementary Materials
Incorporating materials that have visual appeal and a tactile quality makes the space uniquely yours. Some favorites that instantly impart the contemporary farmhouse vibe are industrial metal, vintage copper, and warm woods in tones as cool as natural pine or as deep as rich walnut. Thoughtfully placed as floating wood shelves or a hanging metal pot rack, these decorative cues will inspire your choice of finish for
sink faucets
and
pot fillers
.
.
The kitchen countertop, whether limited or substantial in functional space, is a key element in establishing the contemporary farmhouse aesthetic. For a polished and airy feeling, consider the sleek look of white quartz. For classic beauty, marble makes a statement. Equally appropriate options for a contemporary farmhouse countertop include stainless steel or butcher block, both easy to clean and incredibly functional.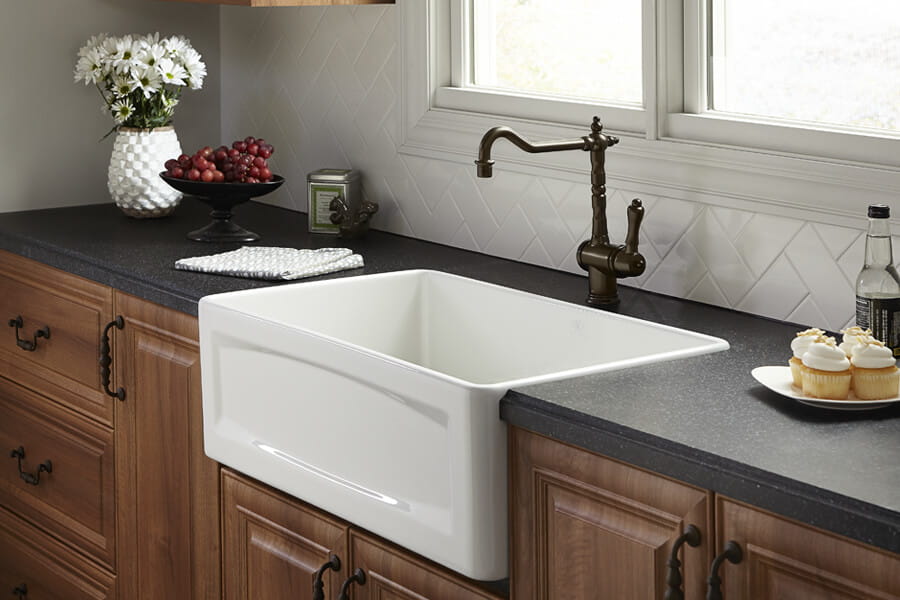 Selecting
On-Trend

Fixtures

Creating a contemporary farmhouse kitchen that works requires both visual appeal and everyday practicality. Choosing the right sink and faucet is essential. The deep, apron-front style of the DXV Hillside Sink is the perfect combination of both. Pair it with the DXV Victorian Faucet, a timeless design that offers superior style and performance. This attention to detail gives your contemporary farmhouse kitchen authenticity and functional efficiency.
The
Final

Touches

Accessories make the look. Thoughtful selection, from linen dish towels to wooden utensils, wire baskets to white dishes, flowers filling a mason jar, will all make your contemporary farmhouse kitchen unique. Carefully placed on the countertop, tucked in a corner, or stacked on an open shelf, these accents, like the design itself, should exude warmth and practicality, inviting the eye to move and embrace the entire setting.

The key to achieving a contemporary farmhouse kitchen is curation. Functional, on-trend choices that add subtle, understated style to maintain the bright, airy beauty that defines this ever-evolving aesthetic.