Whimsical Luxury with a Modern Approach Highlighted in Manhattan's Renwick Hotel Redesign

"I want to go places and see people. I want my mind to grow. I want to live where things happen on a big scale." That was the dream of F. Scott Fitzgerald, one-time resident of what is now The Renwick Hotel in the heart of midtown Manhattan. Were he to return today to the quaint brick building built in 1928 as a residence for artists, intellectuals and authors, Fitzgerald could do all that and more.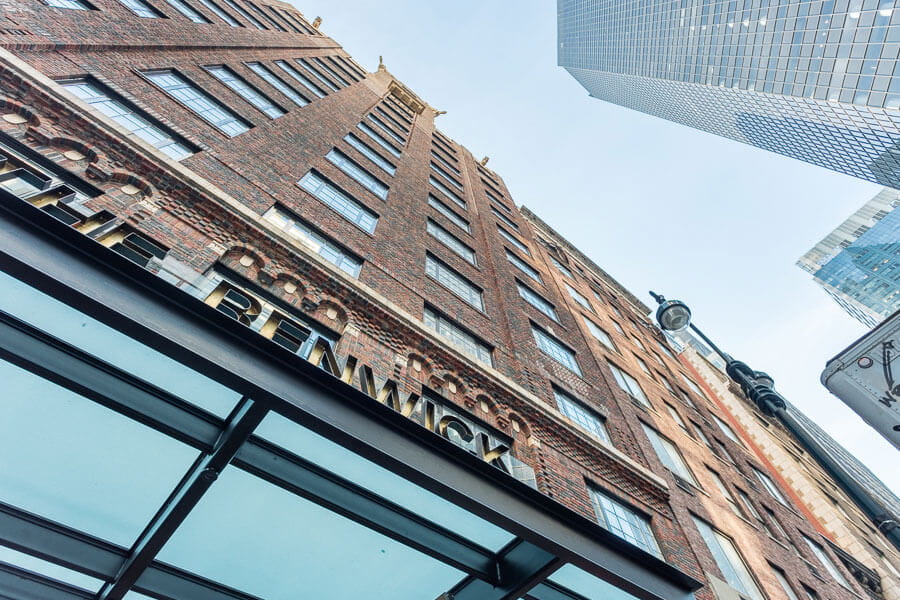 The Renwick Hotel, situated in the heart of midtown Manhattan, was once home to literary legends F. Scott Fitzgerald, John Steinbeck and Thomas Mann. This artist residence was built in 1928 and its rich history inspired the re-design of the hotel, with an eye toward whimsical, yet modern, luxury.


He would see discerning travelers seeking unexpected design and artistry. His mind would grow contemplating the stunning graffiti-style mural in the lobby. And he would live in grand scale in an eccentric room with hand painted window shades of the New York City skyline and bathroom ceilings tiled in Art Deco geometric motifs. He would even find one-of-a-kind ceramic mugs imprinted with a quote from The Great Gatsby.
The creative spirits of Fitzgerald and other resident art icons and literary legends, such as John Steinbeck and Thomas Mann, live on in the new Renwick, thanks to the thoughtful and fun design by
Stonehill & Taylor Architects
.
Named for James Renwick, Jr., the highly acclaimed architect best known for his design of St. Patrick's Cathedral on Fifth Avenue in Manhattan, The Renwick is a product of a partnership between Interstate Hotels & Resorts, hotel Asset Value Enhancement (hotelAVE), and Meadow Partners, a real estate investor and asset manager. They engaged Stonehill & Taylor, the New York City-based architecture and interior design firm, to deliver a fresh new focus on whimsical luxury with a modernistic approach designed for business travelers and leisure-seekers alike.
"We utilized the hotel's rich artistic legacy as a springboard for the design concept," said Kim Edwards, senior designer. The firm wanted to recall the artistry of the 1920s but filter it through a modern lens. The genesis was the emerging modernism of that era, especially influenced by abstract expressionism, Italian futurism and Constructivism.
To that end, The Renwick spotlights functional art sourced from 19 local New York artists who were tapped to create exclusive pieces for the hotel. Interestingly, there is no framed art.
The hotel commissioned Brooklyn-born rising artist and "doodler" Gregory Siff, who splits his time between Los Angeles and New York, to paint the lobby mural. Known for his graffiti-like style that blurs the lines between Abstract Expressionism, Pop Art, and Street Art, Siff's work at The Renwick is, at once, emotional, immediate, and personal — a nod to the creative and conceptual thoughts of an artist at work.
That creative spirit flows through to the property's 173 loft-style guestrooms and suites. "We sought to create guestrooms with an inviting, residential feel that would meet the needs of a contemporary architect or artist, both as homage to the building's history and as a practical solution to limited public spaces for work and relaxation," Edwards noted.
Custom furnishings reference items found in an artist's studio. Whimsical touches include easel-inspired television stands, desks and vanities reminiscent of the artist's workbench, nightstands intended to mimic flat file cabinets and a patterned carpet that simulates paint-splattered concrete. Origami kits hang from pushpin corkboards above the desks, inviting guests to create an unofficial mascot of New York City in a paper-crafted pigeon.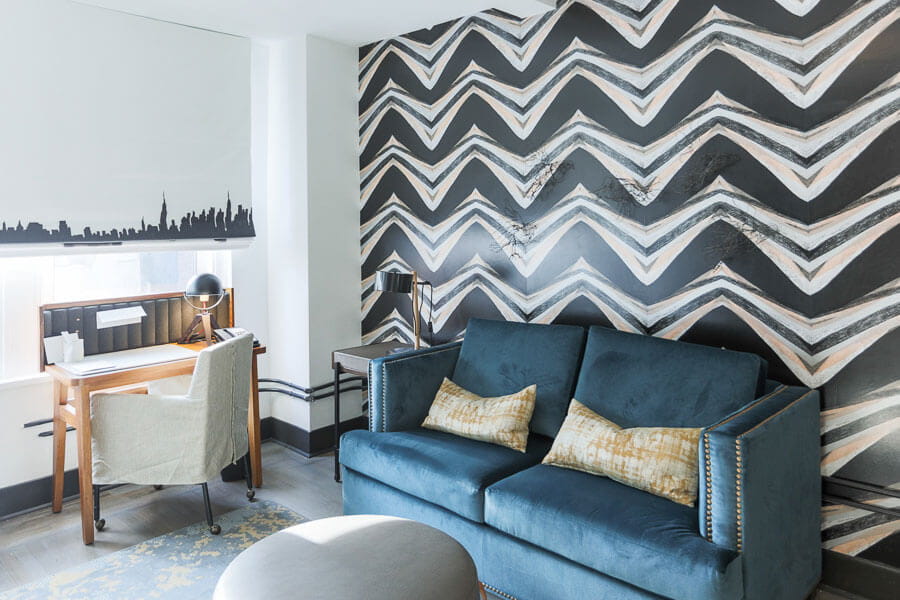 Feeling like the residence of an architect or artist, The Renwick guest rooms embrace whimsical touches such as shades hand-painted with the New York skyline. Shown is a Thomas Mann-inspired suite, which make reference to his novels, in this case The Magic Mountain, with a bold wallcovering depicting a modern take on a mountain range and similarly striking accessories.


Guests are encouraged to create their own art using an in-room post card and mailing it in the original mail chute for a chance to have their piece displayed.
While visually stimulating the senses, the guest rooms embrace comfort too, especially when it comes to the bathrooms.
"The entire bathroom product is a big deal to our customers. We are focused on bringing the business traveler to our hotel and the bathroom plays a key role in having a travel director accept us into their travel program," said Susan Richardson, director of sales and marketing for The Renwick.
Stonehill & Taylor brought a New York City urban vibe into the guest bathrooms, utilizing white subway tiles outlined along the perimeter with black tiles, as well as concrete-like tile floors. The ceilings feature a custom wall covering of muted blue with pale grey geometric line work. "This ties into the underlying concepts of art in unexpected places and utilizing the most basic element of drawing – the line – in different ways and forms," Edwards noted.
When it came to selecting just the right bath fixtures and fittings to support the very specific "1920s meets 2015" feel of The Renwick, Stonehill & Taylor opted for
DXV, the flagship luxury portfolio
of the iconic decorative plumbing fixture and faucet manufacturer American Standard. DXV, now part of the LIXIL Water Technology Americas business unit, was a natural fit for The Renwick, given that its collections re-imagine the most influential design movements of the past 140 years since American Standard Brands has been in business.
DXV fixtures and fittings do not merely reproduce styles from each era. Rather, they are inspired by historically significant designs, reinterpreting them in light of today's aesthetic and performance demands. Each of the
DXV movements
– Classic, Golden Era, Modern and Contemporary – includes bath fixture suites and complementary faucet collections.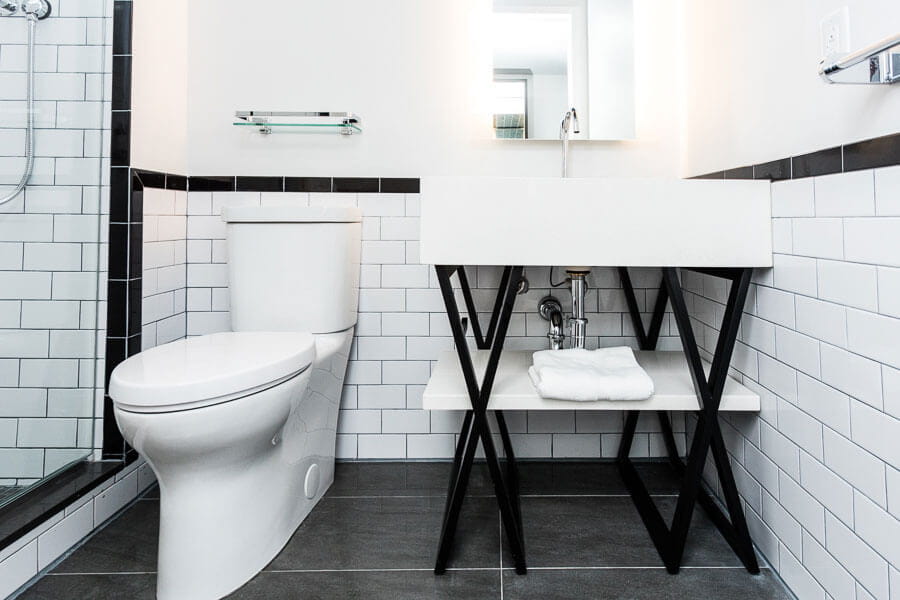 The DXV Equility two-piece, dual-flush toilet stands majestically against the background of white subway tiles outlined with black combined with floor tile that mimic concrete, bringing a New York City urban feel to The Renwick bathrooms.
"In this case, the fixtures were more about subtle design and function that played well with the other elements in the space," Edwards said. "We like how the streamlined design supports the overall design." For example, the contemporary design of the DXV Equility two-piece toilet highlights pure forms and emphasizes symmetry and precision. This dual-flush elongated toilet tastefully demonstrates simple elegance and restrained style with its smooth-sided concealed trapway and discreet activation button on the tank lid.

"The vanity is reminiscent of an artist's workbench," Edwards explained. It incorporates the serene and minimalist DXV Percy widespread faucet highlighted with distinctively geometric lever handles. The vanity features the rectangular American Standard Boulevard undercounter sink, which provides a subtly sophisticated vibe to the bathroom.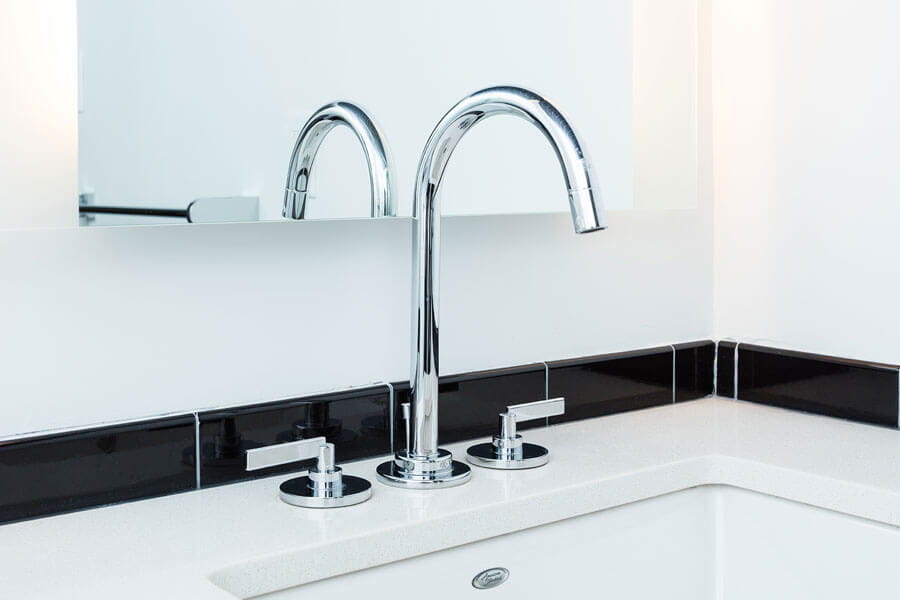 The minimalist look of the DXV Percy widespread faucet with sleek lever handles brings luxury and sophistication to the urban design of the space.
"The fixtures are high quality, yet affordable, and the clean lines are current and modern," Edwards pointed out.
"The shower experience in particular is valued greatly by guests. Water pressure, hot water, intuitive controls, height of the shower head, hand shower ease of use and even whether the shower controls can be operated prior to getting in the shower all really can make or break a guest's stay," Edwards noted. For the best guest experience, Stonehill & Taylor designers selected the luxuriously drenching
American Standard multifunction rain showerhead
that delivers relaxation on demand with three opulent spray patterns: gentle rain, hard rain, or massage spray. It is complemented by the serenely fashion-forward DXV Percy personal shower set and hand shower, accompanied by the sleek
DXV Percy lever handle diverter trim
.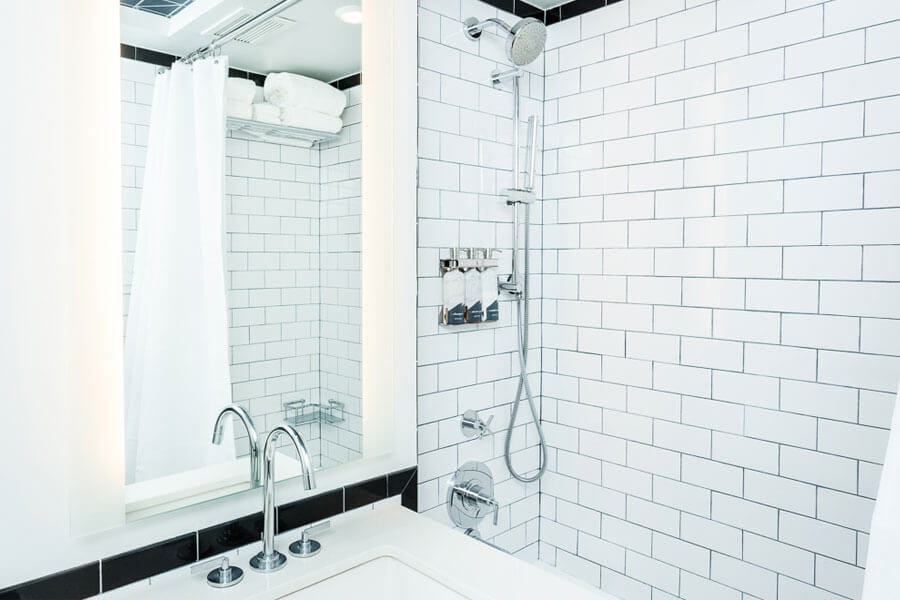 Business travelers, in particular, enjoy the spa shower experience provided by the American Standard multifunction rain showerhead and the DXV Percy personal hand shower in The Renwick bathrooms. The DXV high arc Percy widespread faucet with sleek lever handles accents the American Standard Boulevard undercounter sink.
Renwick guests are treated to a tranquil bathing experience in tubs accented with the impeccably-designed DXV Rem deck mount tub faucet with multifunction hand shower.

"Style, price and quality were equally ranking in the decision process," Edwards said.

"Touring the showroom and gaining a better understanding of the collection and company was helpful during the model room process. Quick turn-around on pricing and speedy responses were key in our time crunch. The rollout was seamless as far as I know. We didn't hear of any issues with pricing, lead times, missing or broken components. No news is good news!" she added.

More good news: "The Renwick bathroom is the highlight of the room for most of our corporate travelers," Richardson reported.

Hotel staff is impressed as well. "The room attendants and maintenance staff love the layout and design of the new and improved bathrooms and their fixtures," Richardson noted. "They find them extremely easy to keep clean and from a maintenance perspective, it is easy to get to most of the mechanicals when needed. The subway tiles are very simple to wipe down and the in-tile drains are a great feature."

Back in the lobby, scrawled on the mural is another quote from F. Scott Fitzgerald: "I hope you live a life you are proud of." Yes, the entire team that reinvented his artist residence can certainly be proud this masterpiece they recreated.