How To Design A Contemporary Bathroom
Jan 22, 2021
How To

Design A

Contemporary Bathroom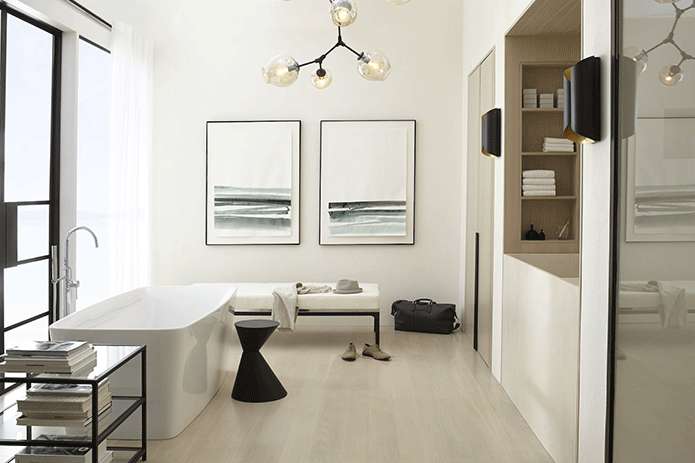 What Is Contemporary Design?
Unlike traditional and modern design, each grounded in a well-established sense of style, the contemporary aesthetic is dynamic and ever evolving. While contemporary design is of-the-moment, it reflects the nuances of a changing world, encompassing elements of the past, present and future. It is an outward expression of your worldview, personal, unique and complex.
Contemporary and modern design are often used interchangeably. However, there are clear distinctions between the two.
The contemporary design aesthetic is purposely time agnostic and more eclectic. It marries influences from around the globe and mixes materials to invoke feelings of warmth and worldly sophistication, favoring soft, curving lines. The modern movement, on the other hand, is defined by geometric shapes, industrial materials, and sharp angles.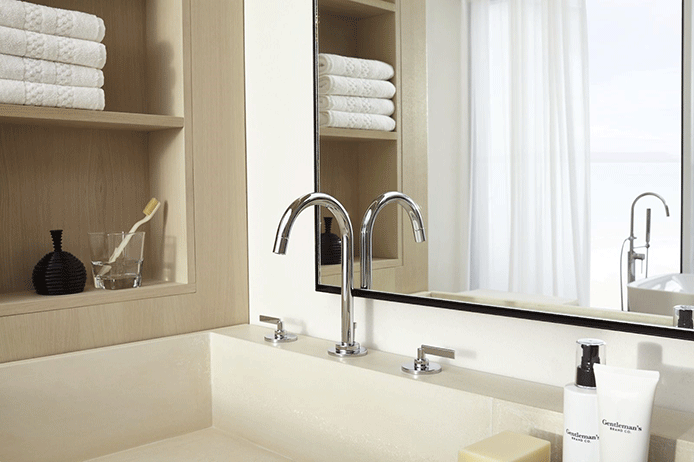 Form & Function
Contemporary faucets and fixtures feature simple lines defined by gentle curves and soft angles. The easy elegance of the DXV Percy Faucet makes a statement, rather than adding adornments. The best part? Percy is available with lever or cross handle options allowing the user to customize the bathroom space to his/her preference. The intentional minimalism of contemporary design makes it ideal for spaces large and small. The Equility Soaking Tub, available in crisp white canvas in two sizes, adds a clean, bespoke touch that is contemporary and timeless.
The DXV AT200 LS SpaLet Bidet Toilet elevates the bathroom to the next level of functionality. Sleek styling and advanced technology for improved hygiene make it an essential addition, reflecting today's contemporary vision. More popular than ever, the AT200 LS features front and back cleansing with dual adjustable self-cleaning nozzles and a heated seat for added comfort.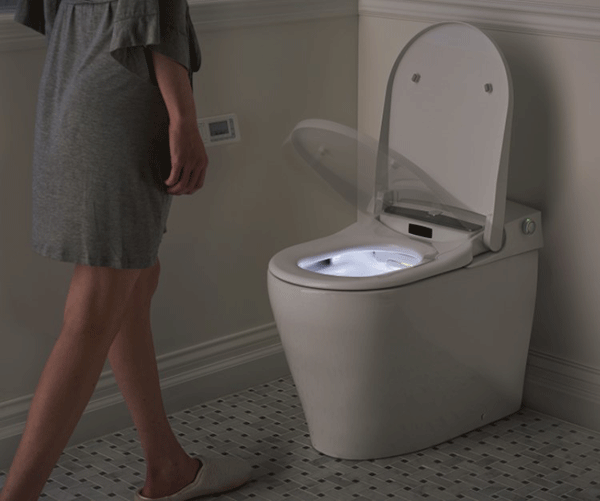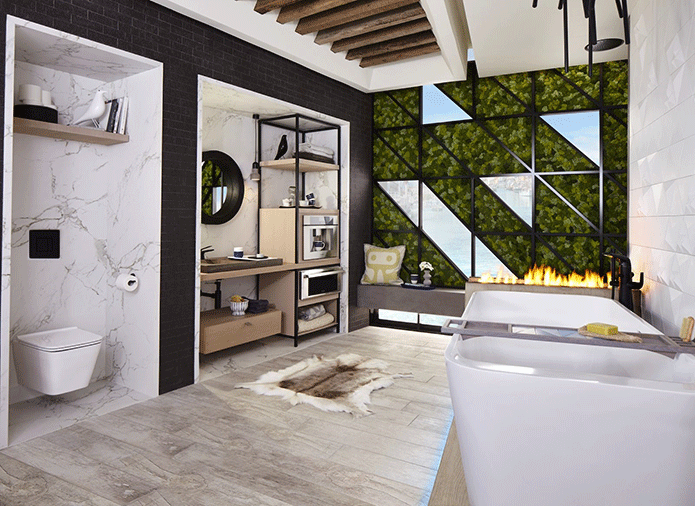 Colors & Materials
Incorporating different color and material combinations is where you can get creative with your take on contemporary design and make it uniquely yours. Contemporary design is expressed with natural materials like wood, smooth stone, granite, and glass. Wood, particularly lightwoods like teak, are popular in contemporary design. Wood injects warmth without being overwhelming. Additionally, wood is used for functional pieces, like the DXV Equility Wall-Hung Vanity, which maintains the minimal aesthetic popular in contemporary spaces.
Adding smooth stones like slate and granite provide contrast with just the right dose of drama. The key to contemporary spaces is to make the design feel natural without being overwhelming– a balanced blend of influences. Using different natural materials, like stone and wood, creates contrast without making it feel intentional.
Beyond materials, the easiest way to create a contemporary design bathroom is through colors and paint. Warm neutral colors such as taupe, sage, sand, and ivory provide the perfect backdrop for contemporary design. These colors are soft and visually appealing, evoking feelings of serenity when you enter the space. There are also ways to incorporate non-neutral colors in your contemporary design by choosing one or two vibrant colors and feature them throughout. For
example, a deep cobalt blue for your accessories and wall decor bring a pop of color without being too profound.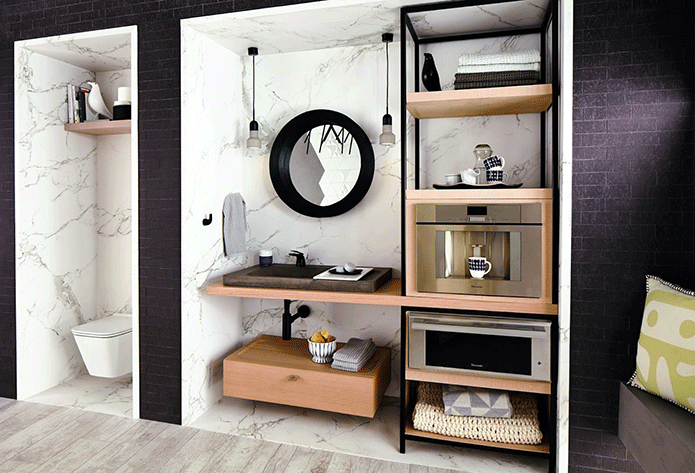 Final Touches
While contemporary design leans more toward the minimal approach, that doesn't mean there isn't room to accessorize. The main point to keep in mind when styling a contemporary bathroom is to make your space count by making sure each item has a purpose, using functional pieces as the styling accessories themselves. For example, adding plants is an easy and affordable way to infuse color and life into any space; they even offer the added benefit of cleaning and purifying the air! Invite pops of color into the space with colorful wall art
or mirrors that have contrasting frames, like the one shown above. Instead of going for
a traditional bathmat, opt for a unique rug to make a statement while maintaining a neutral color palette. Upgrading traditional bathroom fixtures and accessories with these contemporary elements are all effective ways to elevate the style and design of your space, creating the contemporary bathroom you've been Pinterest-ing about. For more design movements, check out dxv.com.